Viejas Arena | San Diego State University, California
Ladies and gentlemen, are you ready for Arcade Fire?? The band are on their Infinite Content tour with their highly anticipated new album, "Everything Now"!! They're hitting the Viejas Arena on Wednesday 18th October 2017 – be there!! Tickets on sale now and selling out fast – grab yours while you can!!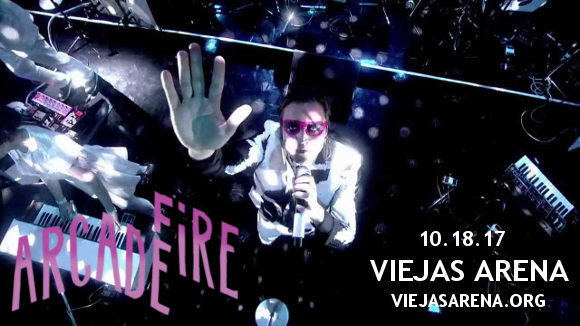 Hailing from Montreal, Quebec, Arcade Fire saw its beginnings when childhood friends Win Butler and Josh Deu decided to start playing music together in 2001, while they were studying at university. SOon, they recruited musicians Régine Chassagne, Tim Kyle, Myles Broscoe, Crystal Clyffs, AIDS Wolf, Dane Mills, and Brendan Reed, forming the bands very first incarnation.
Their first album, "Funeral," was released to massive acclaim from music critics in 2004, described by AllMusic as; "brave, empowering, and dusted with something that many of the indie-rock genre's more contrived acts desperately lack: an element of real danger." From there, the band's success knew no bounds – their second album, "Neon Bible," released in 2007, won Arcade Fire a Meteor Music Award for Best International Album and a Juno Award for Alternative Album of the Year! The band's third album was similarly successful, and they then provided the soundtrack for the film "Her," in 2013 along with the release of their fourth album, "Reflektor," taking their popularity to all-new heights.
Their first four albums have all received various awards and nominations, widely regarded as innovative milestones in the history of popular music. Their latest is no different. Get ready to be among the first to hear it all live!!