Viejas Arena | San Diego State University, California
Five Finger Death Punch are back with a brand new album, and they're taking it on the road for an extensive tour, coming to Viejas Arena on Sunday 19th April 2020! The group has spent much of the last couple of years touring with some incredible names, starting the year off alongside Megadeth and Bad Wolves, and this stint is no different, bringing an insane support line-up of Papa Roach, I Prevail and Ice Nine Kills!
"This album represents rebirth, progression, transcendence both personally and musically," vocalist Ivan Moody says of the new LP, "This record to me is 'absolution' – everything I've done in my life has led up to this moment."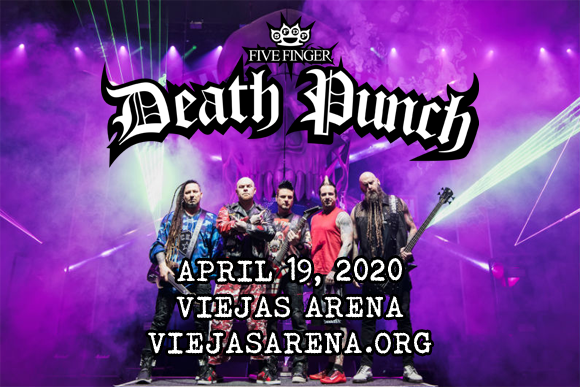 Five Finger Death Punch was founded in 2005 in Las Vegas, Nevada by former U.P.O. guitar player Zoltan Bathory, former W.A.S.P. guitarist Darrell Roberts, vocalist Ivan Moody (Motograter/Ghost Machine), bass player Matt Snell (Anubis Rising), and former W.A.S.P. drummer Jeremy Spencer. Two years after its inception, the band released its debut album, The Way of the Fist, which debuted on the Billboard 200. The band has experienced several line-up changes since its debut, and has released seven studio albums – including three platinum (War Is the Answer (2009), American Capitalist (2011) and The Wrong Side of Heaven and the Righteous Side of Hell, Volume 1 (2013)) and three gold. Five Finger Death Punch releases its eighth studio album, F8, in 2020.