Viejas Arena | San Diego State University, California
Paramore are embarking on a North American headlining tour along with supporting acts from Metric and Hellogoodbye. This is not a show to be missed, as the band are promoting their new self-titled album 'Paramore'. Get your tickets now and join the band on their new adventure with incredible supporting acts and exclusive new music. Paramore's music has gained universal acclaim, so make sure you're there to experience their amazing talent.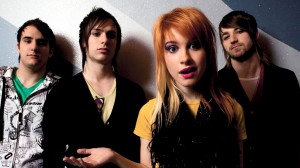 This American rock band, currently made up of lead singer Hayley Williams along with guitarist Taylor York and bassist Jeremy Davis, released their debut album in 2005 and have seen unending popularity since. Their well-known music is widely regarded as 'dark', 'emotional' and 'dramatic' yet enjoyable and electric to listen to. Their stage performance is incredible, undoubtedly one of the many reasons they have shot to fame. Hayley, lead vocalist, takes inspiration from The Cure and Etta James and her powerful, dominating voice along with her charismatic nature light up their live showcases. Don't miss their latest show.
Get your tickets now and support this incredible band's latest triumphs.