Viejas Arena | San Diego State University, California
Fans and listeners of The Chainsmokers from across California will descend upon San Diego in November for an unforgettable Sunday night of live music and entertainment! Viejas Arena will be hosting one of the premier live music acts in 2019. The Chainsmokers & 5 Seconds of Summer will be coming to Viejas Arena on Sunday 24th November 2019. Have you been kept wide awake eager in anticipation for this incredible live concert? Then don't miss out on this incredible show!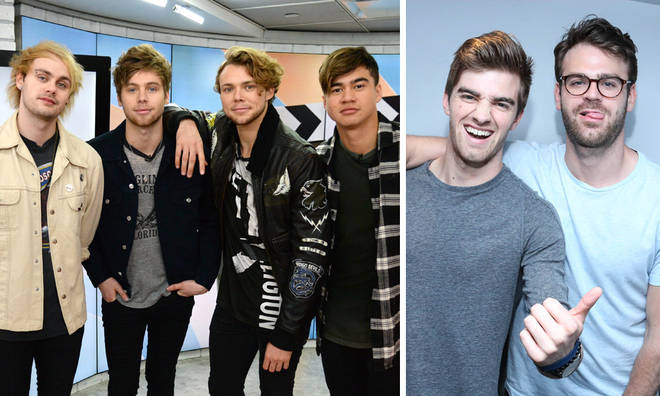 The American DJ group The Chainsmokers have had an epic year so far, with their shows that just keep on coming as part of their World War Joy tour! With extended dates to go out on a high for the end of the year, The Chainsmokers have planned exciting dates that include support from the ever popular 5 Seconds of Summer! Two bands that are hot on the scene – nothing beats capturing their performance live in concert…
The Chainsmokers have been grabbing the attention since their debut, with the duo made up of Alexander "Alex" Pall and Andrew "Drew" Taggart, the two of them have taken the world by storm, with their EDM-Pop blend! 2014 saw the release of their first single and their career was a breakthrough onto the mainstream as they hit the top 20 in charts all around the world! Their success in North America has helped put them on the musical map as they won two American Music Awards, seven Billboard Music Awards and gained a Grammy for their performances.
It's pretty clear to see that the NYC music scene has helped shaped this duo's background as they very much became one of the must-listen to artists in the area and since with their worldwide status! Since their first release, these guys have become one of the highest paid DJ's of all time, just after the famous Electronic music king of recent years – Calvin Harris.
With their incredibly memorable and catchy songs, The Chainsmokers have dropped singles throughout the last few years that have stuck with us, such as their top 10 hit, 'Roses' and 'Don't Let Me Down' which reached into the top 5 singles on the Billboard charts! Their most recent album release "Sick Boy" also gained a lot of positive feedback and included collaborations on tracks from the likes of DJ NGHTMRE, helping once again to showcase their music to a wider fan base.
2019 has been an incredible year for The Chainsmokers so far, but it's about to kick off, with their last few dates for the year – you can grab the chance to be a part of their story and catch them live this coming November as they stop off at Viejas Arena – don't wait too long, all of their shows are known for being sell out successes!