Viejas Arena At Aztec Bowl | San Diego, California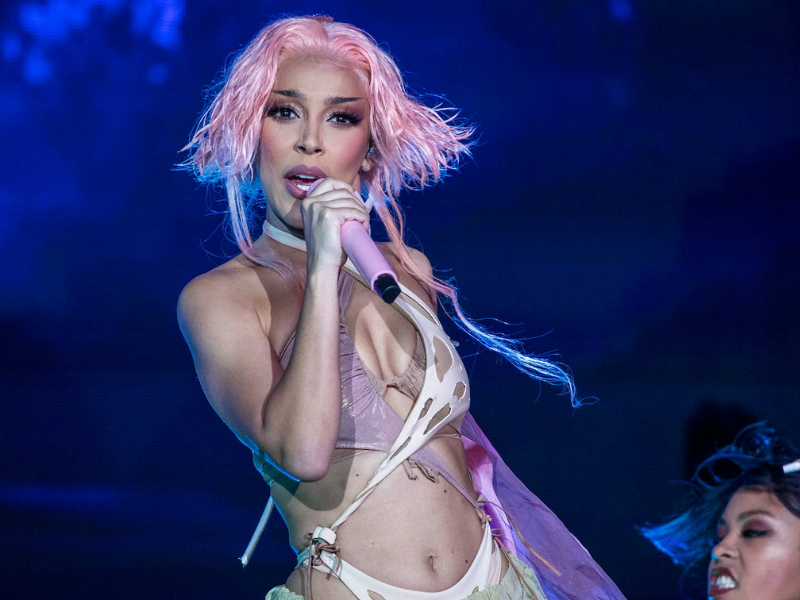 Make way, the triple-threat hotshot Doja Cat is heading to the Viejas Arena on Sunday, November 5th this year! Calling the Attention of all her fans in San Diego: The female rapper has announced the official dates for her upcoming North American tour entitled "The Scarlet Tour." That's not all - she is blazing a trail across the US with another booming icon in the rap scene by her side! Special guest and fellow up-and-coming rapper Doechii will accompany the artist as they continue the 24-date show on the road. With her latest album "Scarlet" releasing in early September, audiences can expect to hear fresh tracks from the record along with all-time hits like "Juicy" and "Candy." The Viejas Arena is the premier concert venue in California that keeps viewers close to the floor and part of the action - making this the best place to view the fiery performance of the genre's top ladies! Buy your tickets now while they're still available!
Mark your calendars for November 5th this year because Doja Cat is arriving at the Viejas Arena!
The Grammy award-winning icon has finally revealed the official dates for her first headlining North American arena tour, The Scarlet Tour, which runs for a 24-date series of shows from October 31st in San Francisco before ending on December 13th this year in Chicago.
And she's not alone - the pop icon has invited two of the hottest acts in the industry to open her tour performances. In this event, American rapper and singer Doechii will be singing alongside the artist! After the release of her debut EP, "Oh the Places You'll Go," Doechii gained viral success from her single "Yucky Blucky Fruitcake," which landed her an impressive record deal with Top Dawg Entertainment. New York City-based rapper Ice Spice will also be in attendance on selected dates!
"Doja Cat invites us into the exquisitely strange and spectacularly camp world she's been teasing and toying with over her last few releases," the Rolling Stones magazine shares about the artist. The review mentions that there are cheeky elements like sci-fi film references that can be found in the presentation but overall the content itself is pristine pop fun.
Releasing three studio albums, audiences can expect an extensive catalog of fan-favorite songs to make up the setlist for Doja Cat's tour. From her debut album "Amala" up to her most recent record, "Planet Her," her tour will be nothing short of incredible! Along with this, crowds will get to hear her most popular hits, such as "Juicy," "Tia Tamera," "Say So," "Candy" and "Like That," as well as slower, more relaxing tracks like "Streets."
The Viejas Arena is known to many as the top facility for concerts and other special shows in California! The stage features a unique open-air design that will let fans enjoy the refreshing San Diego climate, adding a new experience for those attending arena-type events such as this live concert!
In an interview last year for Harper's Bazaar's cover story, the Grammy-winning singer had discussed what it means to navigate life, especially under the public spotlight. "Some of the most moving moments for me have been when my fans have stood up for me or other people. That's fighting for something real. I really appreciate that." So people should be excited for this tour because Doja Cat is ready to bring her A-game to her dedicated fans!
Go and hit that purchase button right now to secure your tickets!