Viejas Arena At Aztec Bowl | San Diego, California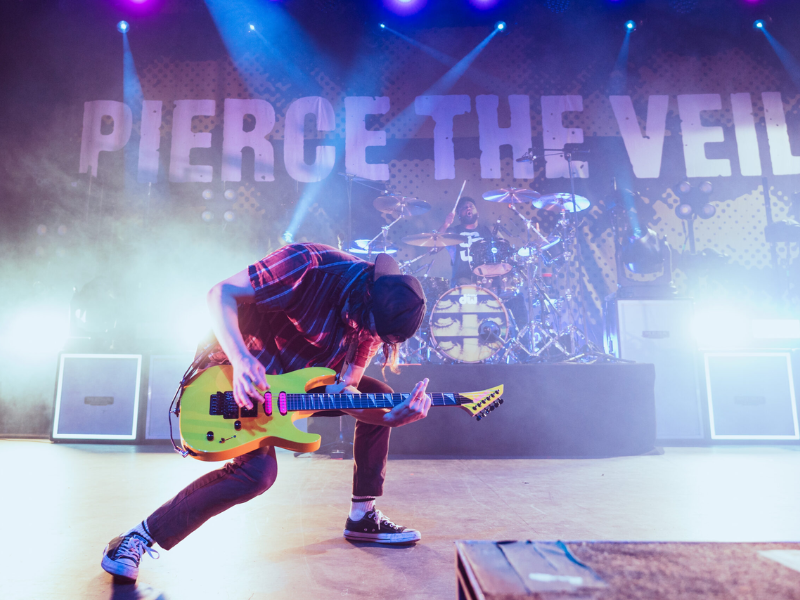 Pierce The Veil is closing it out with a vengeance on Friday, December 8, at the Viejas Arena! After a years-long hiatus, the platinum-selling band will embark on a tour to promote their latest album, "The Jaws of Life." Featuring smash hits like "Pass the Nirvana," the album debuted to instant acclaim, placing twelfth in the weekly Billboard 200 charts. Pierce The Veil is one of the "mexicore" scene's greatest trailblazers. Fusing rock, post-hardcore, and punk, the group composes skin-tingling tunes propelled by emotionally charged lyricism. Their songs routinely rank high in top music charts, including the Billboard US Top Hard Rock Albums, while the band itself received several recognitions from award-giving bodies like the Alternative Press Music and Kerrang! Awards. The Jaws of Life Tour will visit over twenty cities nationwide, with a final performance here in San Diego's Viejas Arena–an indoor venue offering pitch-perfect acoustics for your pure listening pleasure! Buy your tickets now!
The wasteland won't be your only retreat once Pierce The Veil descends at the Viejas Arena's stage on December 8! Rock out with lead vocalist Vic Fuentes, guitarist Tony Perry, bassist Jaime Preciado, and drummer Loniel Robinson in their current tour's final performance.
"To say this was a satisfying show for myself and others is an understatement, and I will go to my grave saying this: Pierce The Veil have proven here that they put on one of the best live shows around."
Reeling from the success of their co-headlining tour with The Used, Pierce The Veil departs on a new fall series to promote their fifth studio album, "The Jaws of Life." The album–their first in seven years–debuted last February to immediate acclaim, rising to the top of several Billboard charts, including a first-place spot in the US Top Hard Rock Albums.
THE JAWS OF LIFE COMPLETE LIST
"Death of an Executioner"
"Pass the Nirvana"
"Even When I'm Not With You"
"Emergency Contact"
"Flawless Execution"
"The Jaws of Life"
"Damn the Man, Save the Empire"
"Resilience"
"Irrational Fears (Interlude)"
"Shared Trauma"
"So Far So Fake"
12 Fractures" (featuring Chloe Moriondo)
"As a unit, we felt very disconnected for a very long time. And though this album brought us back together, it [also] got us to a higher level of connection and stronger bond than we've ever had as a band and as friends," Fuentes shares in an earlier interview.
Pierce The Veil's national tour will make pit stops in over twenty cities, including one in San Diego, California. Here, the Viejas Arena will play host, offering world-class feats of acoustic engineering that will amplify each riff into soul-shaking reverb.
The platinum-selling powerhouse's style is often described as progressive rock infused with pop-punk, post-hardcore, and emo. Frontman Vic Fuentes also notes that they strive to incorporate Latin influences in every song, hence the "mexicore" designation. The band debuted their first album in 2007. Their first hit single, "King for a Day," was released in 2012, climbing to the Top 12 of Billboard 200.
An accomplished music group, they are the recipients of multiple Alternative Press Music Awards, Kerrang! Awards, and an iHeartRadio Music Award for Best Underground Alternative Band.
This is your last chance! Book your tickets now for Pierce The Veil's final concert for "The Jaws of Life" tour on Friday, December 8, 2023, at the Viejas Arena in San Diego, California.